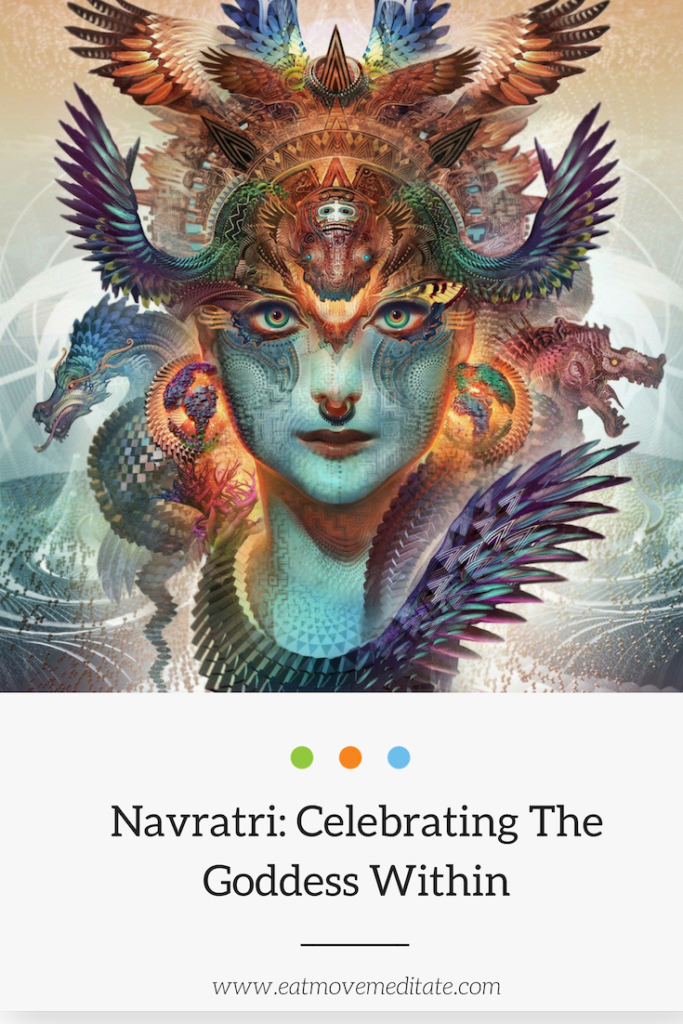 Thanksgiving is still weeks away but I, along with many other Indians around the world, officially welcome the holiday season this week with Navratri, the first of many Indian festivals sprinkled throughout the Fall season.
Growing up Indian American with both Hindu and Sikh influences the Fall season was full of exciting (and often confusing) celebrations of gods/goddesses from ancient Indian mythology where 10 headed demons were being defeated by powerful diva Devis and Blue Flautist danced around serenading their muse. Like I said, it was confusing.
My brother and I participated in countless rituals mimicking our parents as we sung Sanskrit chants, threw rice in fire, and bowed in respect to an altar adorned with vivid images and statues of Hindu deities and Sikh gurus. Although it appeared as blind following in the moment, our rituals were almost always preceded with a discussion often initiated by me. I had a lot of questions about why we were doing what we did, which I asked over and over again… I was the "why" girl.  My parents answered the best they could, enough to keep me content and intrigued.
The intrigue lead me to explore my culture in my own way leading me first to spiritual books, then to Yoga, then to India. I continued to participate in the family rituals and along the way developed some of my own.
How to practice ancient rituals in an urban world
What I've learned about ancient rituals is that there is no right or wrong way to practice them. They have been passed down generation to generation and each generation adapts these rituals in their own way to keep them alive. For me, appreciating the deeper spiritual meaning of these celebrations has allowed me to embrace these rituals as an adult and adapt them to my modern world in a way that serves their essence. Ultimately I think that's what it's about, ancient mythology serves as powerful reminders of our spiritual strength.
When I started blogging, I didn't intend to write about Indian holidays or rituals partly because I'm no expert (other than living it),  partly because I thought Indian recipes and rituals would turn people off. So what changed? Well, I've changed. When I first started Nutritionize almost a decade ago, I was in parts, meaning I compartmentalized different aspects of me… Why? To fit in. Yup, I said it. I wanted to fit in.  Can you relate?  And I didn't know where my Indian recipes and rituals fit in. Now, a decade later… There is something even more important to me than "fitting in" and that is living my truth. Maybe no one will read this or maybe that one little rebellious Indian girl will read it, and embrace her truth. Hope you enjoy the pieces of my life.
That brings us to this week's Navratri celebration.
What is Navratri?
Navratri is a nine night festival honoring the divine feminine, Shakti, in her various manifestations of Durga, Laxmi, and Saraswati.
Nav (nine) ratri (nights), a Sanskrit word literally translated to Nine Nights, starts on the first New Moon in the Autumn season and goes on for nine nights. Nine uniquely celebrated and auspicious nights of honoring Durga Goddess and ending with Dussehra, aka Vijayadashami (victory tenth).
Depending on which part of India you're in the mythology differs but the essence is the same. In the Northern/Western states of Indian Dussehra celebrates the end of Ramlila, God Rams's victory of Ravana (the ten headed demon), whereas in the Southern/Eastern states Vijayadashami celebrates Goddess Durga's victory over the buffalo demon to restore dharma.
Can you guess the spiritual essence underlying both stories?
Victory of Good (Dharma) over evil (Adharma).
Throughout the nine days various rituals are carried out with certain foods, fasting, and puja's. On the 8th day Kanjak puja is done worshipping all forms of Goddess Durga through all little girls. I have fond memories of being at the temple half asleep awaiting the this ceremony where my feet were washed and I was given offerings of worship. That experience alone shaped my self love and self confidence, I may not have grown up being called a "princess" but there was no doubt in my mind that I was a manifestation of something greater the "goddess " within.
What is Dussera?
The nine day festival ends with Dussera, we'd gather together at temples and watch towering effigies of Ravana burn to the ground symbolizing the destruction of evil. Hmm.. It's no wonder I was drawn to the Burning Man festival, anyone else see the similarity?
Dussera also starts the preparation for Diwali, the festival of lights, which occurs 20 days after Dussera and is one of the most important and widely celebrated holiday.
Notice how there is no specific date associated with these celebrations? That's because the date various every year and follows the moon phases and changing seasons. Hence why Navratri starts on the first new moon of the Autumn season and the other celebrations are a certain number of days later.
This year I learned that the date of the celebration could actually fall across two American calendar days. I said it was confusing, right? Because the "day" is determined by the moon it could start on 12pm one day and end the next day.
The beauty of Indian festivals and rituals is that they are personal and can be done in whichever way feels right to you. Some people fast for the entire Navratri festival, others give up eating meat, and others wear colors on different days to associate bring to life the essence of the goddess.
How are you celebrating this season of festivities in your own way? Share in comments…