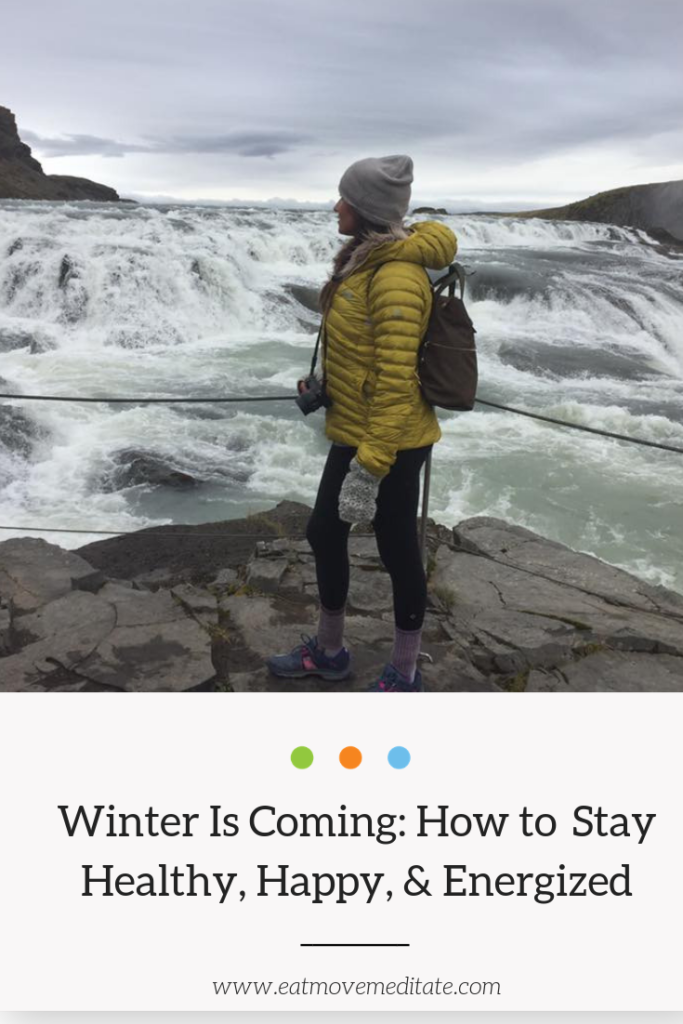 The shorter days and darker nights have me wanting to hibernate under my sheets until the spring time, unfortunately checking out isn't going to solve the natural shift in energy our primal bodies are experiencing. Like our animal and plant ancestors we too have to experience and align with winter in order to thrive.
But what does alignment mean?
In this post I share some yin yoga poses, lifestyle changes, and a meditation that can make the dark and gloomy winter season more light and peaceful.
According to Traditional Chinese Medicine (TCM) Winter is associated with Water element and Kidney/Bladder meridians which are considered to be our primary storage centers for Qi. If these organs are energetically depleted it wreaks havoc on our entire mind and body as you'll read in more detail below, that's why it's important to align with this winter season.
Unfortunately, modern lifestyle makes this challenging – the holiday season, end of year work demands, and personal goals all compete for our precious time and energy encouraging us to do more and move faster while our primal body yearns for rest and restoration.
I notice that Autumn is more the season of the soul than of nature. — Friedrich Nietzsche
If you are energy sensitive (like me) you may struggle to find balance between the push/pull. I used to escape during the winter months because I didn't know how to strike the balance which I learned over time, has to do with self awareness and setting boundaries. Saying "yes" when you have the energy to offer outwards and saying "no" when you need to hibernate and fill your cup.

Winter Season Profile
What usually cause dis – ease and ailments in the winter is stagnation of energy. In order to align with the winter season we need to understand this season through the lens of Traditional Chinese Medicine (TCM), Ayurveda, and Yoga.
Primary Element of Winter: Water
Organs Associated with Winter:
Energetic Quality:
Storehouse of vital energy, Chi, Prana
Meridian Lines:
Run down front and back of spine
Down back of legs
Up inner thighs
Chakra: 2nd Swadishtana (Sacral) Chakra – Dwelling place of self  (Center of Pelvis)
Mantra: Vam
Mudra: Jal (Thumb and pinky finger)
Intention : Purification of flow of energy
Yoga Postures:
Encourage full circulation of back line of body and lower back (kidneys) replenish vital energy
How you feel when you are misaligned with the winter season
When you are out of seasonal alignment the following ailments could arise.
Physical:
Cold and Dry
Lower back, knee pain
Problems with hearing/balance
Cramps
Kidney Issues
Mental:
Relationship & Intimacy Issues
Lack of focus
Lack of energy
Fear of change
Obsession
Emotional:
Fear
Self doubt
Unable to deal with stress
Blocked or chaotic
Isolated or needy
Resistance
How you feel when you are aligned with winter season
When you are in harmony with the season and in balance you speak open about emotions. You are open to the world around you. You have energy, compassion, grounded intuition, emotional stability, and a zest for life.
Physical
Producing hormones crucial for RBC
Regulates BP and Glucose metabolism
General health of bones
Mental:
Willpower
Endurance
Ambition
Coping with life challenges
Emotional
Wisdom
Trust, self confidence
Deal with stress
Surrender letting go, deal with change
Practices to align with the Winter Season

Yin Yoga
Do these 4 yin yoga poses a few times a week to rest and rejuvenate:
Caterpillar (4 mins) – Savasana (1 min)
Butterfly (4 mins) – Savasana ( 2 mins)
Sphinx – Seal (6 mins) – Front Savasana (2 mins)
Dragon lunge – low lunge (6 mins) – savasana (2 mins)
Open Bridge w/ block  (5 mins)
Final Savasana (7 mins)
Lifestyle Recommendation
Food
Hydrate hydrate hydrate
Foods that specifically nourish and warm the kidneys are; black beans, kidney beans, broths cooked with bones, lamb, chicken, walnuts, chestnuts, black sesame seeds and dark leafy greens.
Cook foods longer to store more heat
Eat foods in season: squash, root vegetables, mushrooms, leafy greens
Chew your food
Movement
Warm baths
Keep skin moist with oils and lotion
Face your fears
Dance, sing, play
Inward Practices:
Writing
Acceptance
Allowing rather than forcing
Permission to be yourself
Affirmation
Repeat this affirmation to yourself upon waking and sleeping.
I see the opportunity for growth in all situations. My mind is free of resistance.
Guided Meditation
Here's a guided meditation you can do daily.
Do not overlook any offer, you could receive just what you've been waiting for and just what you have been working towards. Cleanse your energy space, relax your mind, invite soulful connection. Balance head and heart, integrate dark and light. Be yourself fully. Express freely and unhindered.
We can choose how we respond to the current energy and all situations in our life. Are you choosing to see the growth available to you or laying blame outside yourself?
Dive deep into the qualities of your personality that you normally shun or hide away. What you hide about yourself can be where your greatness lies and is most needed to bring you into wholeness.
Why wait for an opportunity to knock when you can create it all for yourself?
Wishing you a restful and rejuvenating winter season so you can dance into the new year with grace and ease. How are you aligning this winter season? Post to comments…