A few years ago a yoga student of mine asked if he could ask me a personal question, I said yes with hesitation not knowing what was going to come out of his mouth next. He went on to say, "I notice that all Indian people are skinny and they all eat Indian food. I have been eating Indian food from Chaat Café (chicken makhni, daal makhni, naan, etc.) for breakfast, lunch and dinner for the past few weeks. It's delicious BUT I'm gaining weight! Isn't it supposed to be healthy?!" I waited for him to tell me he was joking, his silence told me he wasn't. My immediate response was WOW?!  One, because we don't eat that food at home, two because no not all Indian food is healthy and three because not all Indians are skinny (have you seen the diabetes rates amongst Indians?!). I pretty much told him to take it easy on the butter chicken and naan.
This conversation was pre-paleo, had it been now I probably would have a different response. Not all Indian food is healthy but it's not to say that ALL Indian food is unhealthy. As with all foods you can make smart choices and get creative.
Here are a few of my favorite ways to get an Indian fix, gluten- free and paleo style. 
Paleo Masala Chaat
Makes a great snack and wakes up the taste buds with sweet and sour tastes
Fresh cut seasonal fruit
Add 1 teaspoon chaat masala
Add a pinch of black salt
Mix it up well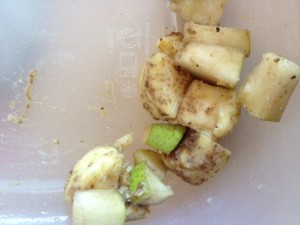 No Naan Buffet
Who says you can't have Indian food without naan? This plate was prepared at a buffet style wedding. I piled on some salad, skipped the naan bread, picked out the shrimp from the rice and had a nice helping of saag paneer and tandoori chicken.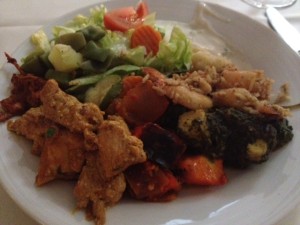 Mango Almond Lassi
There is nothing better on a hot day than a cold mango lassi, make it dairy free. In a blender add fresh cut mango, almond milk, ice. Blend until smooth. Pour and enjoy!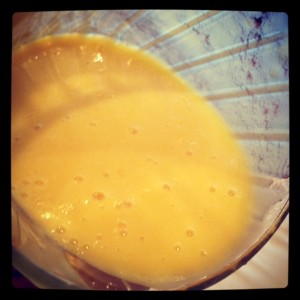 As always don't just take my word for it, try it out for yourself and report back. Post to comments…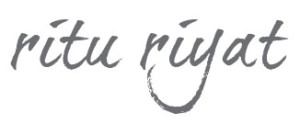 ____________________________________________________________________________
About the author
Ritu Riyat MPH|Holistic Health and Nutrition Counselor| Yoga Therapist is a San Francisco based Health Counselor promoting universal wellness via Skype consultations, and seminars. Delivering simple techniques to add balance through food, movement, and meditation.  She is an avid cyclist, crossfitter and yogini. Her motto "food is a drug, eat responsibly"… Nutritionize now!