I remember the first time I heard the sound of a singing bowl, I was lying on my yoga mat in Savasana (corpse pose) sweaty and tired from an intense vinyasa flow class. I closed my eyes ready to drift into silence when I heard it, the most beautiful sound piercing my ears. I resisted the urge open my eyes to see what instrument was creating this sound, I didn't want to disrupt this moment. As the instructor walked around the room the sound vibrated every cell in my body. My racing heart slowed to a calm rhythmic beat, my breath softened, and my body melted in a way it hadn't ever before. I remember thinking – "OMG I think I reached nirvana?!" The sound slowly faded away and the instructor guided us out savasana.
When I opened my eyes I saw a small metal bowl sitting beside the instructor. Was my magical experience created by that bowl?! Confused and curios I walked over to the instructor to find out. Sure enough, this little singing bowl, known as a Tibetan singing bowl was responsible. I came to learn that this particular singing bowl was calibrated for the heart chakra, hence my heart opening experience.
Since that experience nearly 15 years ago, I have had the honor to attend countless sound bath healings where a variety of bowls are used to calm the nervous system, create calm, and stimulate inner healing.
You don't have to attend a healing session to reap the benefits of these metallic magicians. Companies like Shanti Bowl make it easy to own and experience the magic of a handcrafted singing bowl. They sent me one of their bowls to try out and I absolutely love it. These singing bowls are made of "panchaloga", which is a Sanskrit word meaning a five-metal alloy that includes copper, zinc, iron, and traces of gold and silver.The various metals come together to create an incredible sound with rich, warm and vibrant overtones.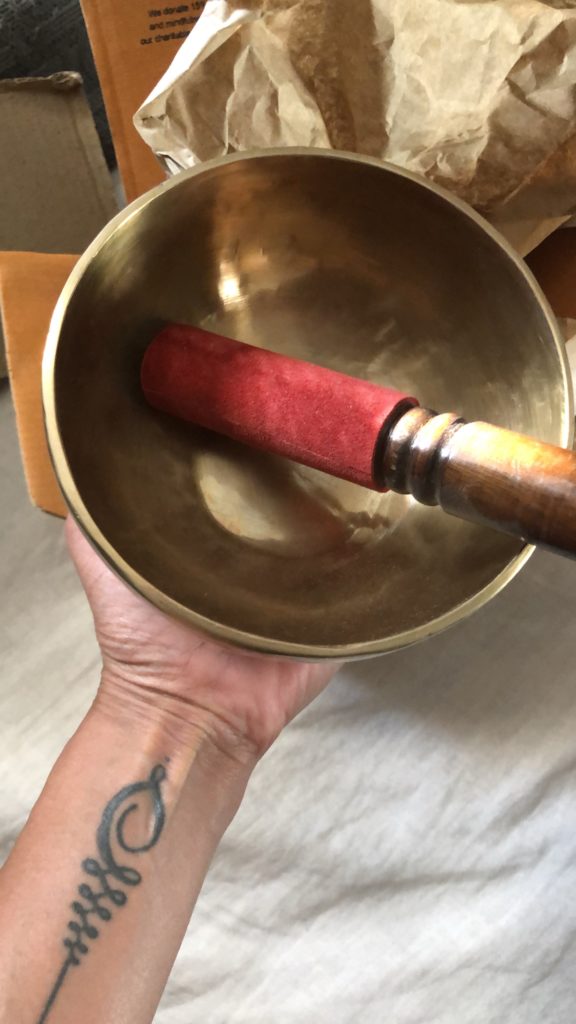 The bowl is beautiful in color and creates the most harmonious sound when I strike it with the mallet. My only drawback with this bowl is the rim is abit thicker than my other bowl which makes it difficult to rub the outside rim to create other sounds. I may just need more practice with it.
The nice thing about this bowl is its simple design I not only use it while teaching yoga/meditation sessions but have also introduced it in my corporate workshops as a way to bring people back after a breakout session. It works far better than whistling, phone timers, and screaming.
How To Use a Singing Bowl

There is no right or wrong way to use the singing bowl. To create the best sound, rest the bowl in the palm of your hand and hold the mallet in your other hand. You can begin by simply striking the bowl with the mallet to produce a strong gong sound. I enjoy closing my eyes and listening to this sound, following its variations as it slowly fades away. This style of sound meditation is similar to a practice called Nishpanda Bhava.
You can create a more harmonious sound aka make the bowl sing, by using your mallet to rub the bowls outer rim in a circular motion. Not only will the sounds resonate through your ears but you will also feel the vibrations of the singing bowl through your hand and body.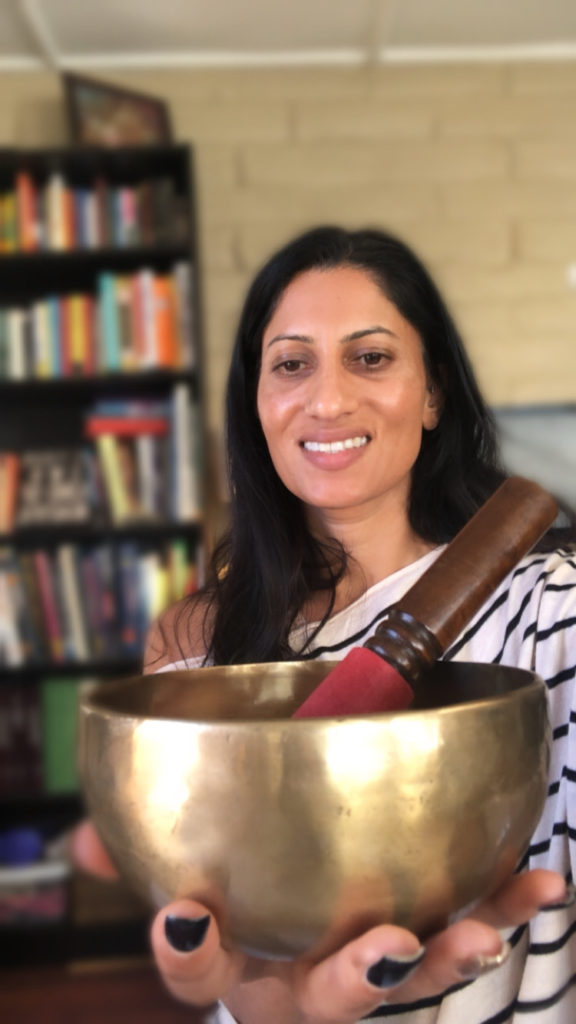 Benefits of the Singing Bowl

Sound healing as been around for eons, found throughout many cultures around the world. The sound frequency produced by singing bowls shifts our brain waves creating a calming effect. Because our bodies are 70% water, the vibrations literally shake things up in our body synchronizing brain, body, heart waves to create harmony and alignment. I know it may sound a little fluff, I don't have any scientific evidence to prove it but according to my sample size of one, myself, the results are profound.
Bathing in the sounds of a singing bowl are bound to reduce stress and cultivate calm.
Where to get your singing bowl
Singing bowls can be found online and in stores, I recommend shopping small business like Shanti Bowl, so you know where your bowl is coming from.
---
As always, don't just take my word for it. Try it out for yourself and report back…

P.S. Singing bowls make wonderful holiday gifts! 🙂
---
: save for later :