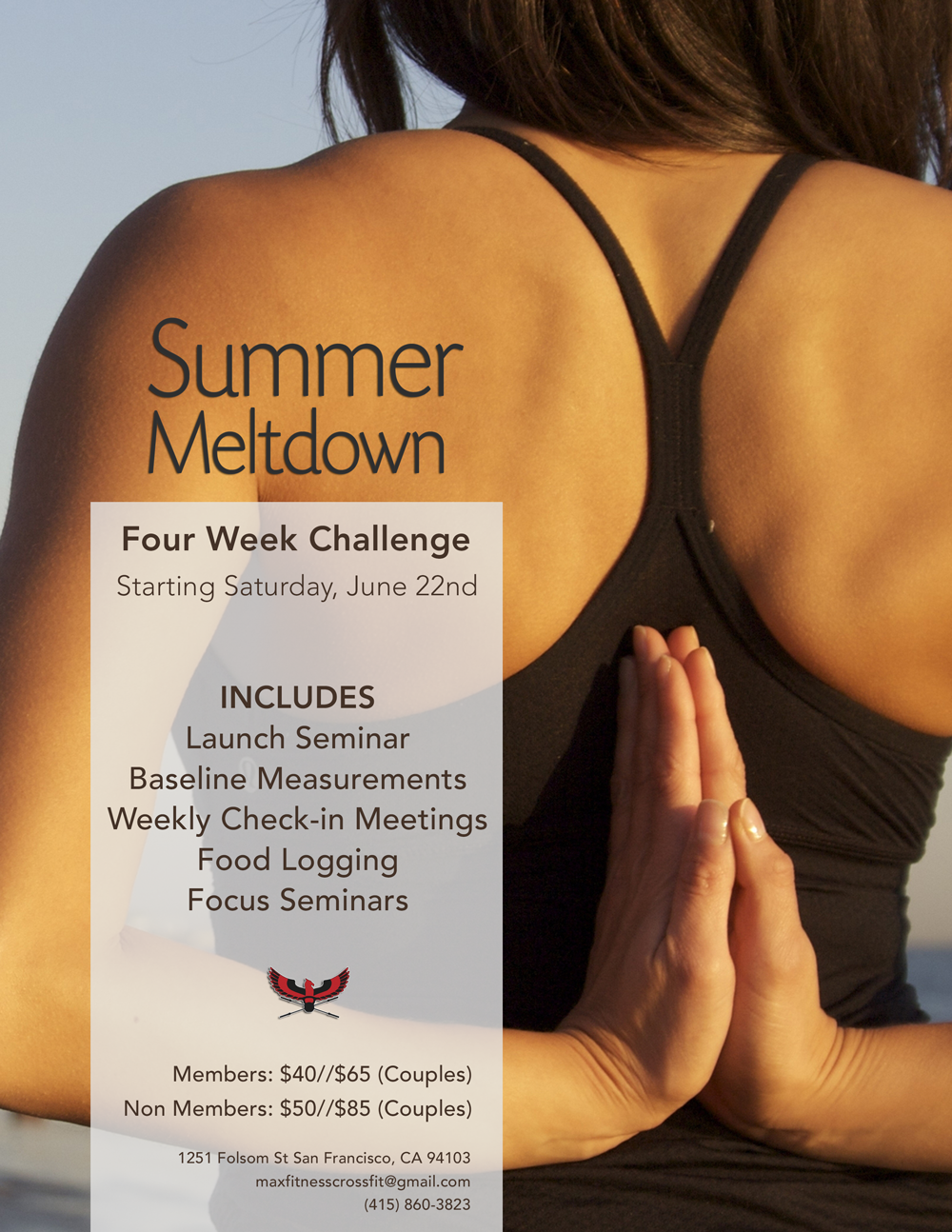 Summer is officially set to start on Friday June 21st… it's time to reveal you beach body, run marathons, cycle cities, swim oceans, and just get outdoors to play… Are you ready for the meltdown?  Join me and the Max Fitness Crossfit team for a 4 week Nutrition and Lifestyle challenge to equip you with the tools you need to look, feel, and perform better. This is NOT a diet… it's a lifestyle.
If you've been working your ass off in the gym or in your sport and still not budging in "look, feel, and perform better" arena then it's time to take a deep into the science of what, how, when you eat. Nutrition plays a pivotal role in our lives and can take us to the next level. The beauty of nutrition is you don't have abandon everything you love to eat… Simple, minor tweaks can transform you by leaps and bounds.
What you'll learn in this 4 week challenge
What are Proteins, Fats, and Carbs (yes… the basics)
What is the infamous "Paleo" diet and how to adopt a "Paleo" lifestyle
What foods to eat and what foods to avoid
How the super hormones work and how finding hormonal will unlock you metabolic, energetic, and fat burning potential
Why it's NOT all about cals in and cals out
Why optimal well-being goes beyond food 
How digestion, blood sugar regulation, stress management, good sleep, hydration, play, and love  are vital ingredients to optimal health
How to become a Self Scientist and develop YOUR personal diet (one size does NOT fit all)
Why grains, legumes, processed dairy and sugar are harmful to your body – and how to identify hidden sources of these sneaky items.
How to create SMART goals  – whether your goal is weight-loss, athletic performance, fertility, digestive health, disease management, balance or sleep optimization.
Whether supplementation is right for you, your goals, or your pocketbook.
How to stay "On Track" on a budget, at a restaurant, on-the-go and with a social life
Logistics
Summer Meltdown is open anyone who wants to attend. You do not have to be a member of the hosting gym or of any gym.
Who should attend? 
Anyone, everyone that breathes. Nutrition challenges are not just for athletes, they are not just for people trying to lose weight, they are for everyone regardless of your goals… why? Because we all EAT!
Come at least 15 minutes early
Seminar will run for 75 minutes
Benchmark wod follows seminar (be prepared to work out)
The Deets 
When: Saturday June 22nd | 10am – 11:30 am
Where: Max Fitness Crossfit | 1251 Folsom Street, SF, Ca
Cost: Individual/Couple $40/$65 (Members) | $50/$85 (Non Members)
Paleo Potluck: Celebrate stepping into the challenge with good food. Immediately following the seminar. Bring something yummy to share! (Open to all)
For more information or questions email ritu@nutritionize.net
Tweet/instagram/facebook: #summermeltdown